I intended this to be one post, but soon realized it's going to take a while. So let's jump right in, and I'll give it to you in easy bite size pieces. ;)
If you are new to Squidoo you might not realize there are more options out there, as far as format, than the basic lens. I'm not talking about by using HTML or CSS but just what Squidoo gives us to work with. I've seen them called
co-brands
or
front doors
, but whatever you call them they are special entry pages for using certain ready-to-go templates. You have to know what they are before you create the lens, because you can't switch from one lens type to another. There is one exception and that is when a brand new type is created. We ususally have a short time span to request an old lens be converted over. But you have to be on the ball with that or you'll miss the opportunity.
Squidoo has been kind enough to give us 7 of these links on the bottom of our dashboards, however they are in the tiniest little font and are easily missed. There are also many others that are not listed. I'm going to cover as many as I know, starting with the following 3...

SquidWho
is for
people
either real or imaginary. Use this lens format as a fanpage about your favorite musician, artist, writer, celebrity, character, someone you admire, anyone! It could even be about yourself. Make sure you don't just claim the lens and forget it. You have to add more than what is auto-generated for you. Get creative! The top 100 SquidWho lenses are featured on the HQ page, and the top ranked lens on any person will automatically come up in a search done from that page. I really like this lens type and have 13 of my own so far. One of my favorites is
Kevin So
.


SquidFlix
is for, you guessed it, movies. You can write a review or share why you absolutely loved a certain movie, or, why it was the worst movie ever. You get to choose thumbs up or thumbs down, pull together info & memorabilia, and get other viewers involved offering their own opinions. This len type also has it's own Top 100 list, or rather, set of Top 100 lists for the Best & Worst movies out there. You'll find it at
SquidFlix Lenses on Squidoo
. I'm not a big movie buff, but I do have one SquidFlix lens
We love Labyrinth
.
Not to be confused with...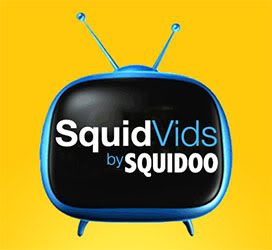 SquidVids
. This one could be for movie clips, but it's got a wider range of uses. Showcase your favorite commercials, tv shows, music videos, home videos, whatever you want. Just make sure any videos you want to use from YouTube are set to allow embedding or you'll have a whole bunch of dead links. Like SquidWho the top 100 SquidVids lenses are featured on the HQ page. For whatever reason though these don't seem to do very well. I've given it the old college try with 3 of them, one being
Gilmore Girls Video Showcase
.
That's it for now...stay tuned for more. :)
Jump to Part 2