When creating a new lens you are asked to pick a category for your lens. I find it odd that the field in which to do so says "Choose a topic", and not "Choose a category", but I suppose it's because it's referred to as "topic" everywhere else on the site.
If your lens fits into more than once category take your pick. I like to see which category my lens has a better chance of ranking highly in. Some categories are more competitive than others. If your lens doesn't seem to fit well in any of them, as long as there is something for sale on the lens, Shopping will suffice. I've had to reluctantly choose that before a few of the newer categories were added.
Don't stress when trying to decide on where to place your lens, you can change it later. This ability also comes in handy when new topics are added to the list.
Here is the current list to choose from:
(as of 3.2.09)
* About Me
* Animals & Nature
* Arts
* Cars & Trucks
* Books
* Business
* Computers, Gadgets & Tech
* DIY & Hobbies
* Duels!
* How-To & Education
* Entertainment
* Food & Cooking
* Green Living
* Health & Medicine
* Home & Garden
* Humor
* Local
* Movies & TV
* Music
* News & Politics
* Parenting & Kids
* People
* Nonprofits & Volunteering
* Pop Culture & Celebs
* Religion & Spirituality
* SEO & Affiliate Marketing
* Shopping
* Sports & Recreation
* Squidoo Tips
* Travel
* Video Games
* Work At Home
You can browse lenses by topic from the aptly named, and very hard to find,
Squidoo Topics
page.
--
A few notes:

1. You can not list a lens under more than one topic at a time.

2. You also can't "remake" the same lens just to put it in more than one category. If you choose to make a second lens on the subject it must have different content.

3. Do not list your lens in a category you know it does not belong. If HQ sees it, they will move it.

4. There aren't any sub-topics or sub-categories…just the one large umbrella to be listed under. Your tags can help narrow the focus.
--
So, how do you go about changing the Topic once the lens has already been published?
There is a Topics pull-down menu in the
Lens Settings
section of the lens' Workshop Tools.
(That's the tall bar on the right hand side of your workshop.)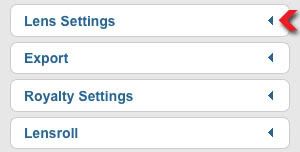 Click the blue arrow and you'll see: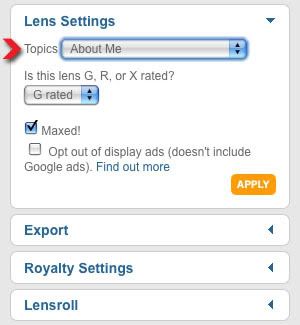 Select your new topic and hit
Apply
. Then save the lens and republish.
Your lens has just been moved from one topic to another. :)