I'll start with the reasons you may want to transfer a lens from one Squidoo account to another.
1. If you've started building lenses under one account and later decide you'd like to break them apart by niche, or separate out business lenses from personal ones.
2. If you've made multiple Squidoo accounts and later want to combine them into one account with the hopes of becoming a Giant Squid or to get into the Giant 100 Club.
3. If you want to give away or sell your lens to another lensmaster.
Now the how.
You need to have at least 3 lenses to see the
Transfer a lens
link on your
dashboard
. You will see it under the heading
Don't miss this tool!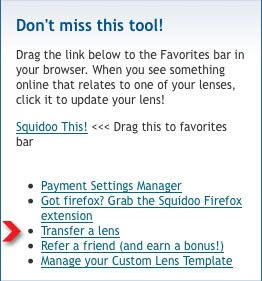 (If you have less than 3 lenses try the direct link
http://www.squidoo.com/lensmaster/transfer_lens
. If that isn't working you can create 2 temporary lenses, make the transfer, and delete the temp lenses.)
You will also need the email address of the lensmaster's account where you are sending the lens.
Once you are on the
Transfer a lens
page it will look like this: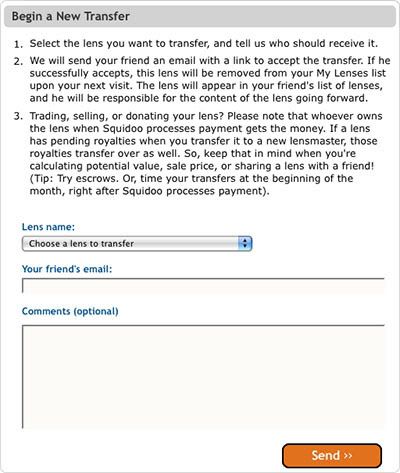 There you will select the lens you want to transfer from the pull down menu, enter the email address of the recipient and click
Send
. That person will have to accept the lens to complete the transfer.
A note of caution:
If you have money pending on your dashboard for a lens you are transferring to someone, that $ now belongs to the new owner.
What about Groups?
They can also be transferred, although they require one, very important, extra step. Because so many people have had a hard time transferring groups I built a lens to help with that.
How to Transfer a Group
.