How do you join a fan club?
How can you tell who's in your fan club?
And what
are
fans anyway?
If you've found a lensmaster that you like and want to keep up to date on it's really simple to do. Joining a fan club lets you receive messages (called Squidcasts) that they send out. They might let you know of a new lens, or if they updated an old one, or that something special has happened with one of their lenses e.g., if it's in a contest, or got recognition of some kind.
(These Squidcasts can be found on the 'My Favorites' section of your dashboard.)
To become a fan the first thing to do is make sure you are logged in to your Squidoo account. Then go to their
lensmaster page
. That link brings you to
my
page, but you can go to anyone's by replacing
Christene
with any lensmaster name. You can also get to a lensmaster page from any lens through the
View Full Profile
link under the avatar.
There you will find a blue
Join my fanclub!
button on the top right hand side of the screen.

Once you click the link a new page opens and asks if you are sure you want to join. You can choose
Yes, Continue
or
No Thanks
.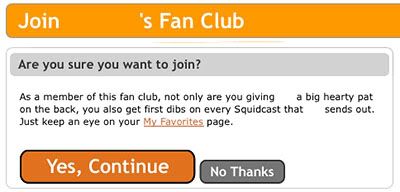 There is an option to
Quit this fan club
if you later decide you no longer want to receive their Squidcasts.
Your own lensmaster page is where you will find your personal fan club. You can see how many fans you have and each of the small avatars are clickable so you can see who they are and look through their lenses.
Some lensmasters "fan" everyone hoping they will all reciprocate, others only join fan clubs when they truly like the work of the lensmaster, as well as their actions around the site...That's the route I recommend. I don't agree with joining every fan club you see. When I find spammers I take notice of their fans are. It doesn't make me think favorably of people who are listed. To me that is a statement condoning their behavior. I think it's important to join the fan club of lensmasters after you have taken the time to look through their lenses, and you believe they are a positive addition to Squidoo.
If you'd like to grow your fan base:
Create lenses, good ones.
Use an avatar (photo/graphic) so people can recognize you.
Post regularly in
SquidU
.
Interact on other people's lenses.
Join other lensmaster's fan clubs.
Then you'll be able to send out your own Squidcasts. :)